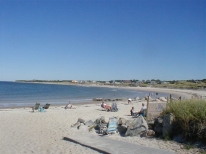 Just one visit to beautiful Cape Cod, Massachusetts and you'll want to stay! Explore our charming villages, challenging golf courses, stunning waterways and glorious beaches. Whether you choose Mayflower, Corporation, or Cold Storage beach on the lovely bay side of Dennis, fishing from Sesuit Harbor or boating on Bass River, biking the famous Cape Cod Rail Trail, or a round of golf on one of the many renowned local courses, these are Cape Cod memories in the making!
Home * Land Realty is an active full time Cape Cod Real Estate agency owned and operated since 1996 by a combination of founding Partners and Associates. Located on historic Route 6A in the heart of picturesque Dennis Village, Home * Land Realty offers extensive sales experience and the finest summer vacation rentals available on the Cape. Find us between The Dennis Public Market and The Village Coffee Shop on Route 6A. And on the web at www.homelandrealtycapecod.com! Thanks for visiting our web site, & feel free to browse around!
Register for Daily Updates
16 Bay View Road
5 bedroom, 4.0 bath
$2,200,000


86 Shore Drive
5 bedroom, 6.0 bath
$2,850,000


67 Hiram Pond Road
4 bedroom, 4.0 bath
$1,695,000

View our Featured Listings!
Search The Cape Cod MLS!
64 Hiram Pond Road
3 bedroom, 3.5 bath
Sleeps 8, $7,500/week
More Info »

28 Goldfinch Lane
3 bedroom, 1.5 bath
Sleeps 6, $1,450/week
More Info »

52 Hiram Pond Road
4 bedroom, 2.0 bath
Sleeps 8, $7,250/week
More Info »
View all of our vacation rentals »
Phone:
(508) 385-1331
Fax:
(508) 385-3637
HomeLand Realty
667A Main St. Route 6A
Dennis, MA 02638-1948
"Gerry helped us purchase our first home in Dennis a number of years ago and did a wonderful job. He also handled renting our property summers. When we decided to buy a second home, there was no doubt who we would use. He is a pleasure to work with and has become a trusted friend."
Wes & Becky- Boston, Ma.

Dennis
- Chapin Memorial Beach
- Cold Storage Beach
- Corporation Beach
- Howes Beach
- West Dennis Beach
- Mayflower Beach
- Bayview Beach
- Sea Street
- Princess Beach